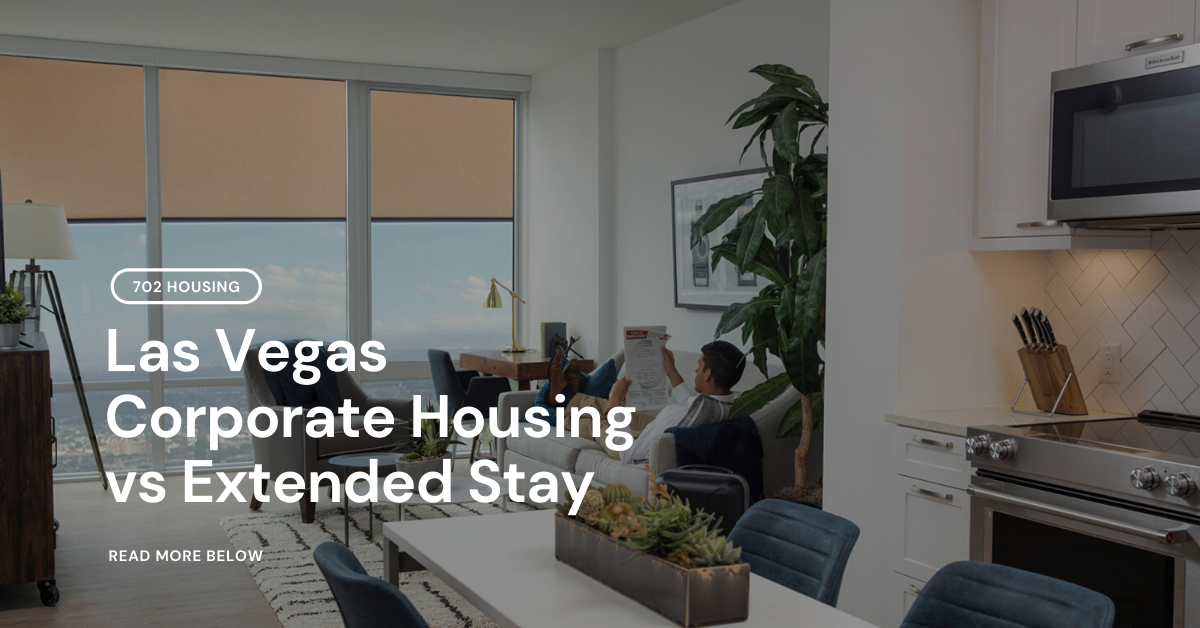 In today's global workforce, business trips are becoming the "new normal", and it's getting more common for professionals to tack on days to a work trip for leisure purposes or whatever personal reasons they may have. In this article, we find there are many reasons why more savvy business travelers gravitate towards corporate housing vs extended stay. The table below shows the comparison in greater detail.
 

Space

Average Square Footage (1BR)

700 sq. ft.
(1, 2, and 3-bedroom options)

Fully furnished with all houseware, kitchenware, fresh towels and linens, as well as a full-size washer and dryer in unit

Kitchenette with mini-fridge, microwave, and coffeemaker

Use of coin-operated community laundry rooms

Separate bedroom, kitchen, living room, dining room, bathroom, even a balcony or patio

Cost

Monthly Average Price (1BR)

Ranging between $150 and $200/night($4,650-$6,200/mo)
1    Corporate Housing vs Extended Stay: Space
No doubt, one of the biggest perks of corporate housing is space. An average hotel room is set up like a studio apartment: has less than 500 square feet, one large room for living with maybe a half-height wall to divide the space, and depending on the size of the furniture, this could feel like much less. Not very appealing if you're sharing with a roommate or just want the kitchen to be away from your sleeping space.
Extended-stay type hotels and studios are great for a couple of nights, but travelers can grow weary of a single room after a while. There is really not enough room to stretch out, entertain a guest, or even just get all your clothing put away. Even though there are dressers and closets, it seems that you're always living out of your suitcase.
A typical one-bedroom condo unit booked through 702 Housing is roughly twice the space of a cramped hotel room— you'll get a master bedroom, full kitchen, separate dining room with dining table, separate living room, private bathroom, and even a balcony or patio—separate spaces for eating, sleeping, and relaxing. We offer everything from 1 to 3-bedroom rentals. This means you can relax when it's time to relax and work when it's time to work, without tripping over other guests.
2   Corporate Housing vs Long-term Stay: Amenities
Unlike in hotels and extended stays where everything is limited—from a small kitchenette to missing kitchen utensils, even a few unbearable maintenance issues—corporate rentals come fully equipped with all the essentials: houseware, kitchenware, fresh towels and linens, almost anything else you can think of to live in comfort is included. Perfect for long term stays!
With 702 Housing, you can enjoy all the comforts of home. The interiors are impeccable and may include luxurious features such as vaulted ceilings, tile floors in the living room, hardwood flooring in selected units, custom cabinetry and countertops, fireplace, oversized bathtub, modern appliances, walk-in closets, and more.
Our upscale amenities, both inside and outside of the units, include so much more than what you're used to. Here are just a few of those:
Flat-screen TVs
Wi-Fi
Walk-in closets
Dishwasher
Fresh towels and linens
In-unit full-size washer and dryer
Private balcony or patio
BBQ area
Fitness Center
Swimming pools and jacuzzis
Clubhouse with pool table
Of course, you'll also get a wide array of outdoor amenities to enjoy: walking trails, parks, tennis courts, volleyball courts, and more.
3   Las Vegas Corporate Housing vs Hotels: Privacy
You don't have a lot of privacy when you are in a hotel. The maids are coming in and out, and many people have a key to your room, from management to the maid to the front desk clerk. Also, guests are more likely to receive regular interruptions and a high noise level.
If you have loud or rowdy neighbors, there really isn't a whole lot you can do about it. You can complain to the front desk, but unless they're getting several complaints, they often don't do much about it except to ask the offending parties to tone it down a bit.
With corporate housing, you can live like a local. Interruptions are minimal and housekeeping services can always be arranged should the guest request it. Therefore, you'll be able to enjoy the freedom of making each day how you like it without worrying about the restrictions of a hotel room or disturbing other guests. You can hang out with your friends and colleagues, stay up late, or get up early and begin your day – all are excellent choices when staying in corporate housing.
4   Corporate Rentals vs Hotels: Location – Live Like a Local
Hotels are typically located around high-traffic areas, such as airports or business districts, meaning that there is frequent turnover of guests. That's fine if you're here for just a few days, but if you're in the city for a long period of time or for work, you need a practical place to live.
Corporate rentals are located in neighborhoods where locals live. Neighbors are permanent residents instead of transient hotel guests. This offers a much more relaxed and home-like environment. Our corporate housing is located across the most desirable areas of Las Vegas Valley such as Summerlin, Rhodes Ranch, Spring Valley, Green Valley, Seven Hills, and Southern Highlands.
Our locations are centrally located with easy access to the entire Las Vegas Valley, convenient to major thoroughfares, have 24-hour guard-gated entry, and can be within walking distance of shopping, dining, and entertainment in select areas.
5   Corporate Housing vs Extended Stay Cost – More Money in Your Pocket
Everybody knows what an average hotel and extended stay alternatives look like, they don't really look much better. With cramped rooms, dim lighting, and a kitchen that's just a microwave and mini-fridge, it's no wonder why business travelers are turning to corporate rentals.
Hotels can be steep for trips longer than 2-3 weeks. The cost of a hotel stay can equal or even exceed the cost of a month-long stay in a furnished condo unit. Let's face it, staying in even a modest hotel for days, weeks, or months can really add up. At even a below-average rate of $150/night, you're looking at $4,650 for a 31-day stay!
Another perk of staying in one of our units is that you'll not only be saving on the basic "room" cost, you'll also be able to save more by cooking at home and doing your laundry on site. This will allow you to cut out the cost of dry cleaning and eating out on a daily basis. With a flexible lease, you can get luxury hotel amenities at a fraction of the price.
 To view our most current availability and competitive pricing, click here.