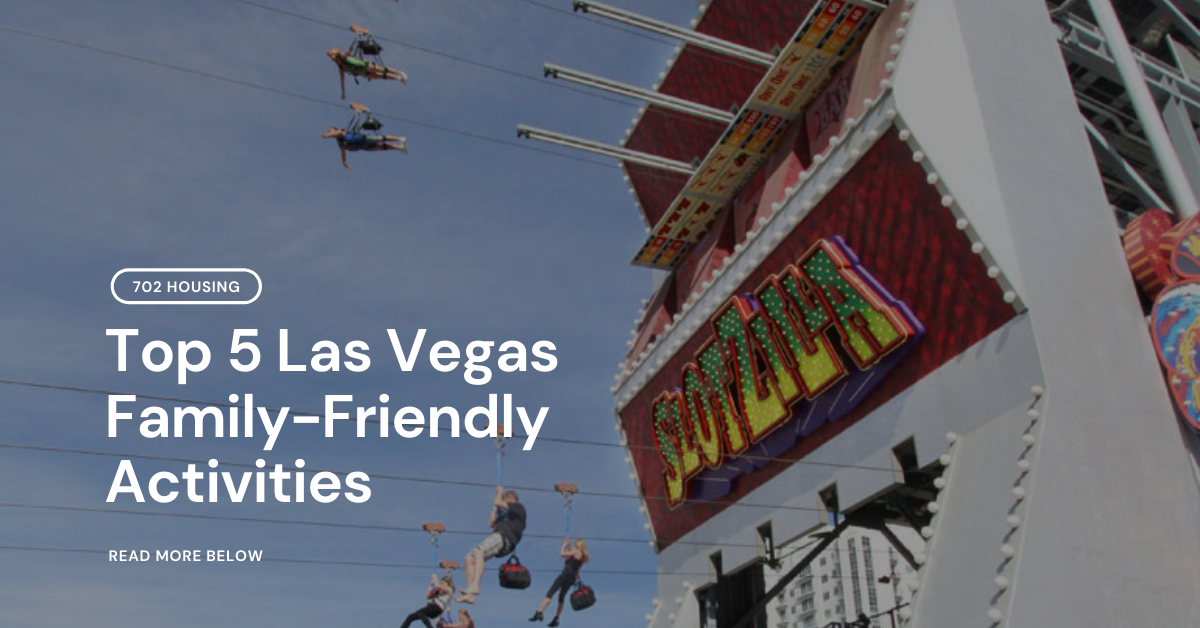 Though Las Vegas is known as "Sin City", it can be surprisingly family- and kid-friendly if you know where to go. Las Vegas is not just for adults anymore, and that's a fact! There is so much to see and do around the valley for families and adults on extended vacations with children. Here is our top list of family-friendly activities to do if you are bringing your family on your temporary stay to Las Vegas.
1     Las Vegas Family-Friendly Activities: Topgolf
Located at 4627 Koval Lane, at the corner of Harmon and Koval, Topgolf is unlike anything you've ever experienced! At 105,000 square feet, this four-level entertainment venue features some of the finest amenities such as over 120 climate-controlled hitting bays, five unique bars, 48-foot HDTVs, VIP cabanas & private suites, private event spaces, 900-person concert venue, and a whole lot more!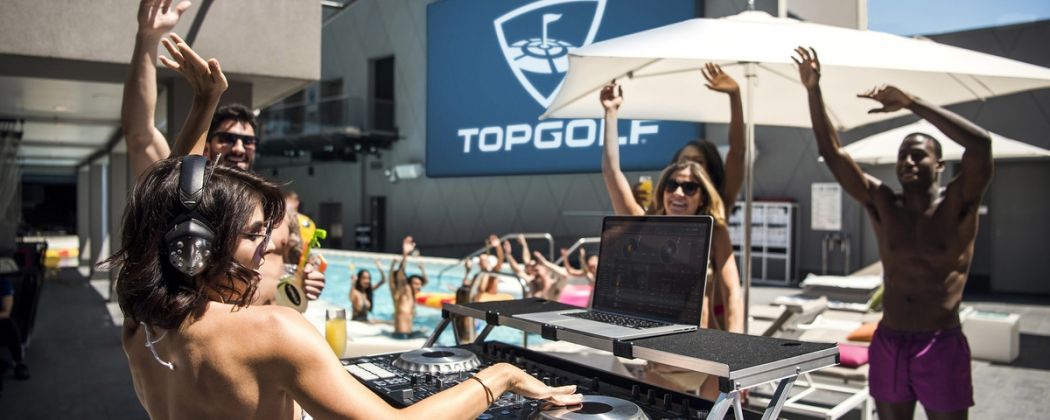 Throughout the years, Topgolf's been evolving the way Vegas does golf. From its family-friendly activities (you don't have to be 21 to enter and participate), to its late-night parties and events, they even have mouth-watering, delectable food and drinks to serve for every appetite. If you're a big fan of sweets, you might want to have some bite of their tasty carrot cake waffles and giant pretzels. For something savory, they have variety of wings and burgers to choose from.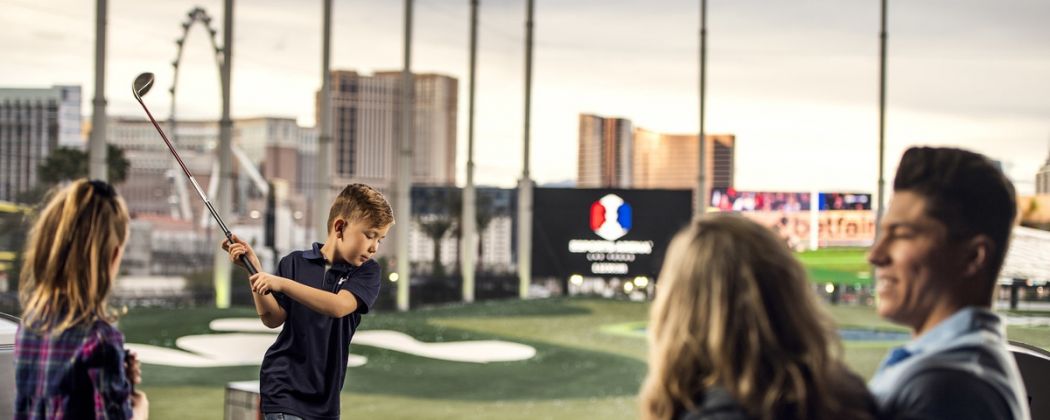 Las Vegas Topgolf Prices
The bay pricing starts at $30 per hour for up to six players, fully equipped with golf clubs, lounge seating, an automated ball dispenser, HDTVs, and sweeping views of the Las Vegas Strip. The golf balls are micro chipped, so players can track the distance and accuracy of their shots, finally settling the score between which one of your family is really the guru on the green. For every target you hit in the outfield, you're given extra points. Who knows maybe you're the next Arnold Palmer in the making!?
For more info, visit the Topgolf website.
Phone
Location
4627 Koval Lane, Las Vegas, NV 89109
Main Hours
Prices
General admission is free. Bay pricing starts at $30 per hour for up to six players. Additional hours can be purchased directly at the facility (subject to availability). All non-members are required to purchase a $5.00 Lifetime membership (applicable at all Topgolf locations). Membership allow players to track all their scores in-venue and at home.
Age, Height, and Weight Restrictions
2     Family-friendly Vegas Indoor Skydiving
Founded in 2005 by the 15-year Flyaway Manager Keith Fields, the America's original indoor skydiving facility and later known as "Vegas Indoor Skydiving" has been granting opportunities for everyone to defy gravity! Located just off the Las Vegas Strip at 200 Convention Center Drive, this extraordinary facility has something for all ages. From solo flights, to group bundles, they even accept accommodation for parties and events of all sorts.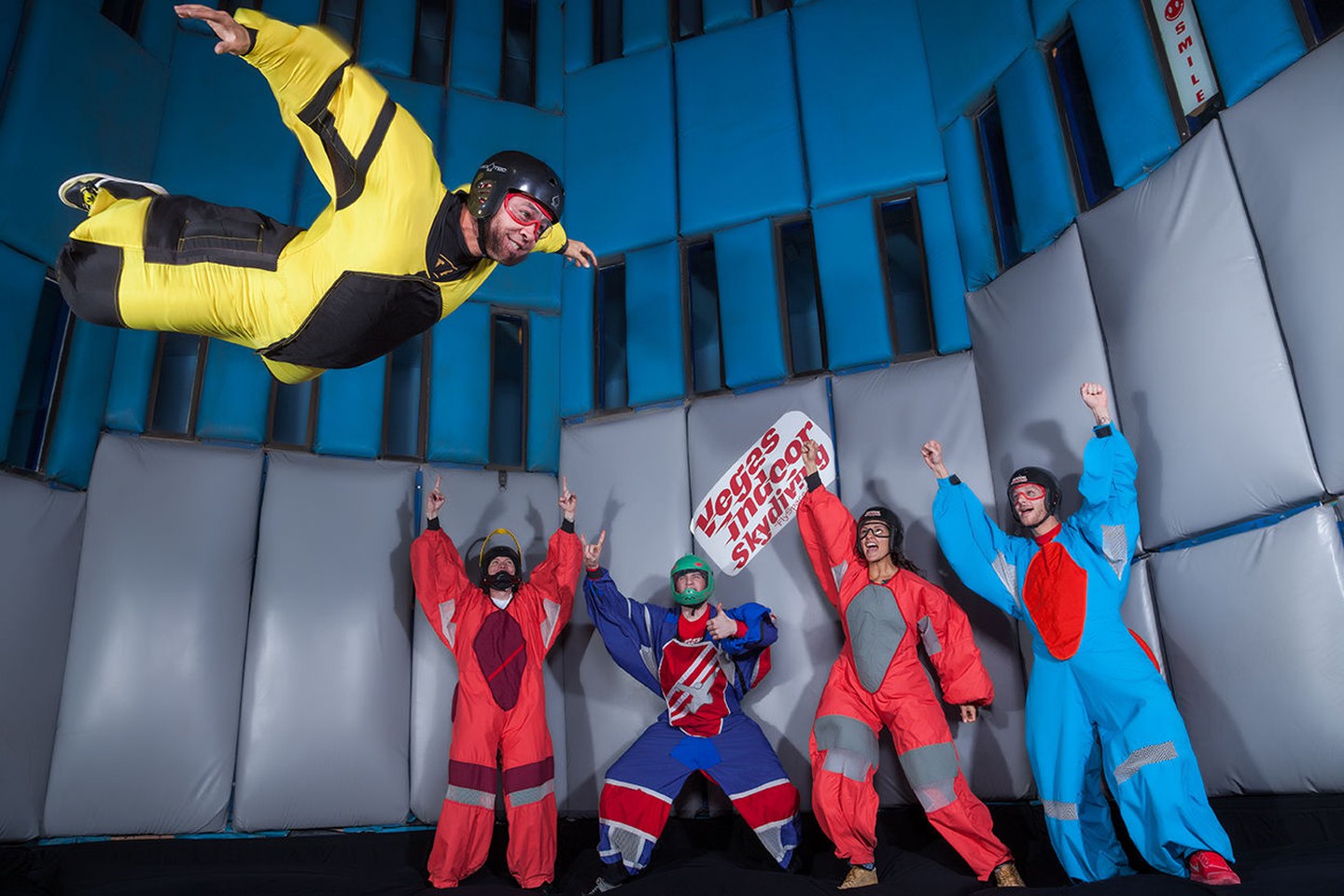 If you want to try what dare-devil skydiving feels like but you're afraid of heights? Vegas Indoor Skydiving has got your back and is definitely your next go-to spot! Vegas Indoor Skydiving enables you to feel the adrenaline rush of Skydiving without bouncing out of a plane. Instead of diving down – you'll soar up, inside a vertical wind tunnel that churns out 120 mph winds. When the propeller kicks into full gear and the air begins to flow, you'll skim high over the got floor.
Family-friendly Vegas Indoor Skydiving rates
Family-friendly Vegas Indoor Skydiving rates start as low as $65. No worries if you've never done like this before, experienced flight instructors will be in the same room with you to guide you throughout the whole process. No experience required. All you need to worry about is having the best time of your life. Your hair will be a hot mess after the session, but who cares? You had fun and that's what really matters.
For more info, visit the Vegas Indoor Skydiving website.
Phone
Location
Vegas Indoor Skydiving, 200 Convention Center Dr, Las Vegas, NV 89109
Main Hours
Prices From
Age and Weight Requirements
No Age Restriction
The minimum weight to participate is 40 lbs.
3     High Roller Observation Wheel
Located on Las Vegas Boulevard, across from Caesars Palace, the High Roller at the Linq isn't your typical Ferris wheel. With over 500-feet-tall, 28 enclosed and air-conditioned transparent pods holding 40 passengers each, and 2000 LED lights all over the cabins, there's no doubt why locals and tourists are thrilled to experience the fun of the world's tallest observation wheel.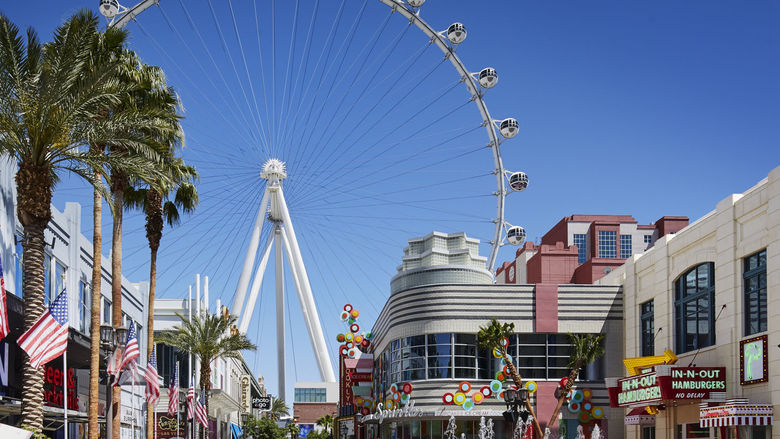 For the curious, yet not so daring, this is the perfect ride for you. The pods are spacious enough for the entire family. The ride is smooth. The panoramic 360-degree views of the entire Las Vegas Valley and The Strip will take your breath away and appease your fear of heights. After a spin on this wheel (which roughly takes 30 minutes long to complete one revolution), your view of Vegas will likely never be the same. Now, Be sure to hit the bathroom before you board!
Enjoy the all-in experience! From in-cabin video and music shows, to handcrafted chocolates from Las Vegas-based Ethel M Chocolates paired with your choice of drink, you may even have some fancy dinner at the $550 million open-air shopping, dining and entertainment district, The LINQ Promenade.
For more info, visit the High Roller website.
Phone
Location
3545 S Las Vegas Blvd, Las Vegas, NV 89109
Main Hours
Prices From
Age, Height, and Weight Restrictions
There are no age, height or weight restrictions.
Children ages 6 and under are free with a paying adult.
The High Roller is ADA-accessible and will stop momentarily to allow for a wheelchair to board.
4     Wet 'n' Wild Las Vegas – Family-friendly activities, LV Valley
Located in Spring Valley, Nevada, southwest of the I-215 and Sunset Road intersection, Wet 'n' Wild is the Las Vegas waterpark with over 25 slides and attractions including the Royal Flush Extreme, Hoover Half Pipe, Zipp Zapp Zoom, Canyon Cliffs, Constrictor, Tornado, Rattler, and many more to cool you off on a hot summer day. A great place for the whole family to enjoy!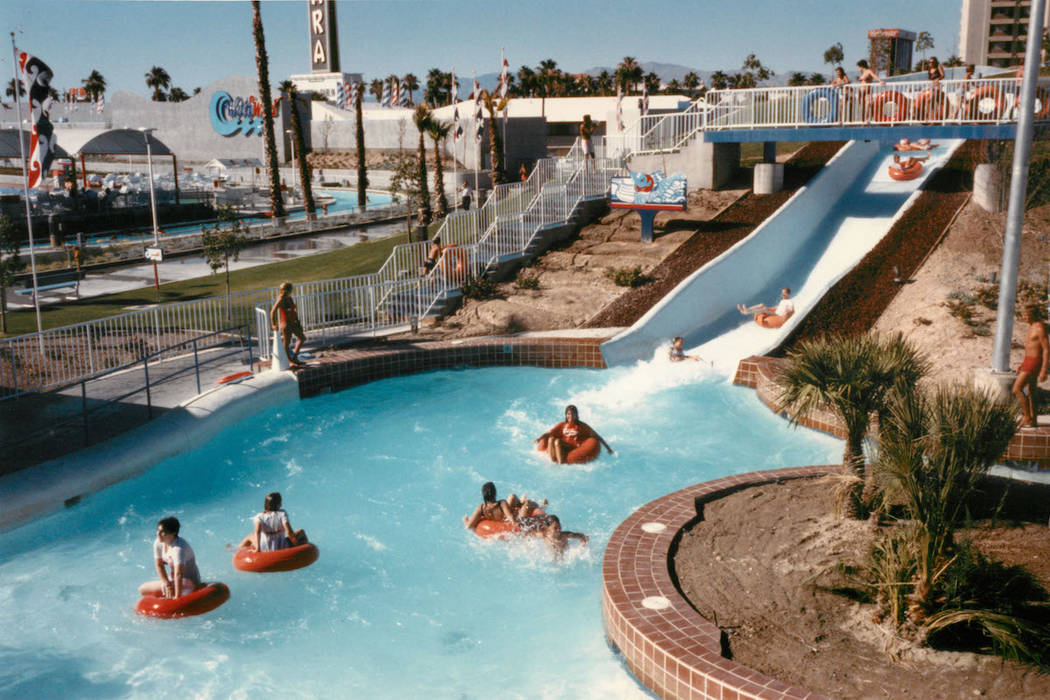 This waterpark never fails to surprise us by its endless entertainment options. For adults, there is the six story vertical drop slides of Canyon Cliffs (definitely not for the faint-hearted). Riders will plummet into a gut-wrenching, heart-pounding almost vertical drop and accelerate to speeds up to 33 feet per second. For slow pacers, there is Colorado Cooler, a 1,000-foot lazy river and the Red Rock Bay wave pool. For the younger kids, there is Kiddie Cove which has kid-friendly slides and fountain streams.
We haven't even talked about food yet. Plenty of food options are available inside, as you are not allowed to bring coolers into the park. Oasis Café, Riverside Eats, and Agave Grill & Waveside Cold Treats are some of the shops you'll find inside. Wet 'n' Wild even has patios and a souvenir shop.
Phone
Location
7055 S Fort Apache Rd, Las Vegas, NV 89148
Main Hours
For accurate schedule, please visit the Wet 'n' Wild website.
Prices
Adults are $34.99
Children (under 42 inches) are $29.99
Children under 2 are free
Seniors (age 60+) are $9.99.
Parking costs $8.
5     Family-friendly activities: Slotzilla Zipline
SlotZilla at Fremont Street Experience is a 12-story slot machine-inspired zip line attraction and considered one of the best thrill attractions in Las Vegas. It features a launch tower with over-sized dice, a martini glass, a pink flamingo, simulated video reels, a giant arm and two 37-foot-tall showgirls. One of the towers also bears a "Welcome to Fabulous Downtown Las Vegas" sign. Pretty great for a multi-million-dollar attraction, right?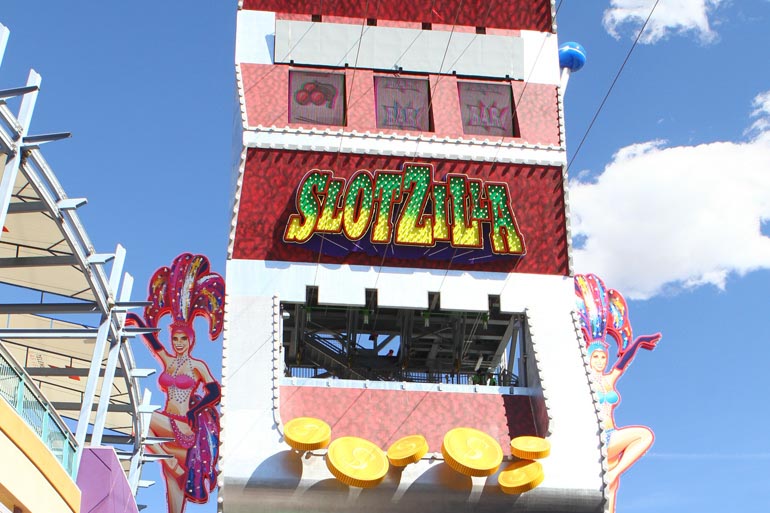 SlotZilla boasts "flyers" two levels of lines, the lower "Zipline" and upper "Zoomline". The Lower Zipline launches you in seated position, 77 feet high for only $25. You fly halfway down Fremont St and land at the four Queens Casino. If that's not enough of an adrenaline rush for you, imagine being superman in a flying prone position from around 10-stories high at speeds up to 40 MPH, that's what upper "Zoomline" feels like. For only $45, you can fly under the Viva Vision canopy. Even so, it's unlike anything you've ever done before and are unlikely to ever forget!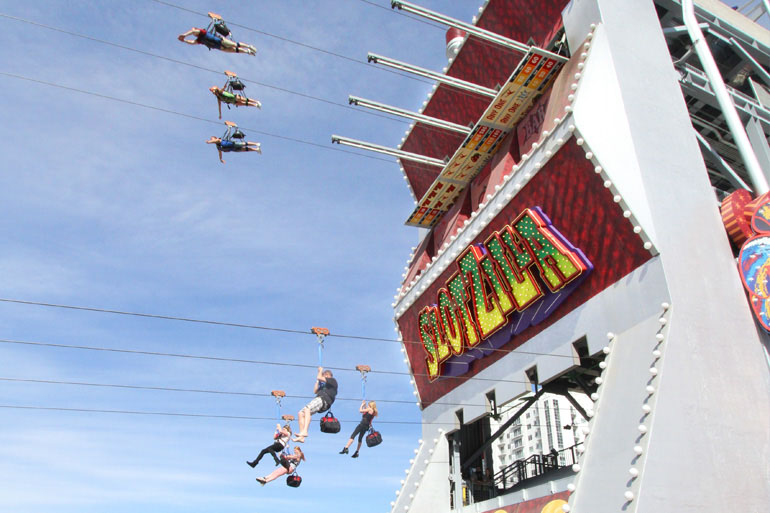 For more info, visit the Slotzilla website.
Phone
Location
425 Fremont St #160, Las Vegas, NV 89101
Main Hours
Prices
Lower Zipline: $20 -$25
Upper Zoomline: $40 – $49
And there you have it! Five fun activities for your family and friends to enjoy! Eventually, if you still have time after completing this bucket list on your monthly stay in Las Vegas, these nearby attractions (Mystery Cirque du Soleil, Shark Reef Aquarium, Tournament of Kings, Marvel Avengers STATION, and Madame Tussauds Wax Museum) will definitely beckon you to come visit.