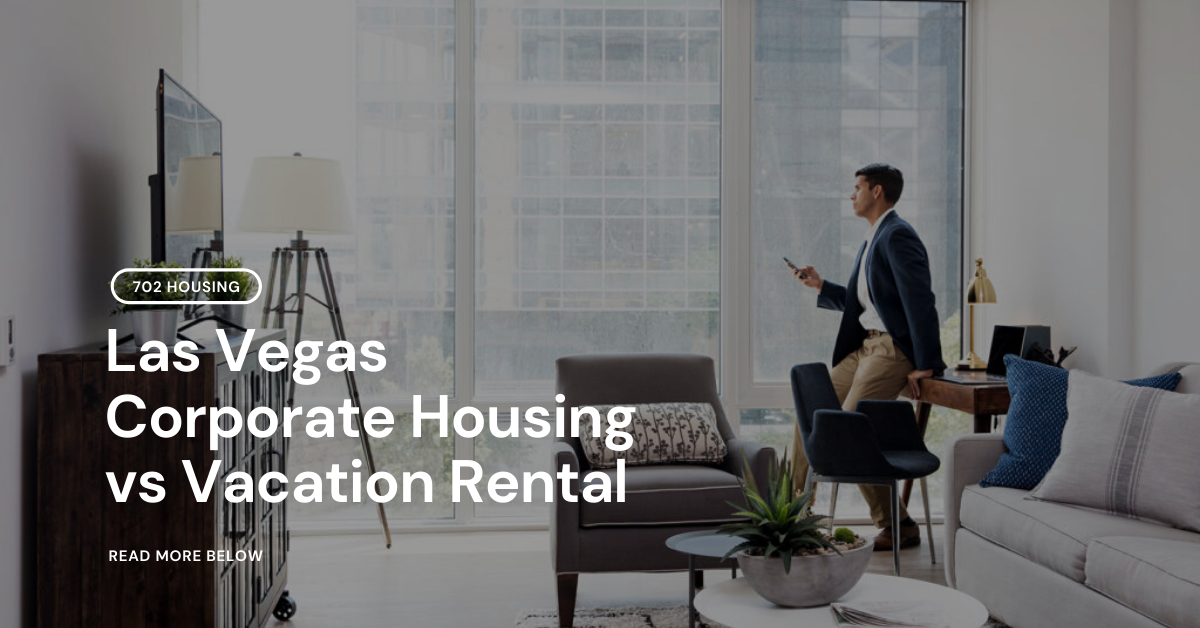 If you're planning on taking a business trip to Las Vegas, you probably have done some research on where you will be staying and which accommodation is the right fit for you. Thanks to corporate rentals, people these days have many options available to choose from. Let's have a look at corporate housing vs vacation rental and see how they compare:
1    Corporate Housing vs Vacation Rental Las Vegas Valley: Target Audience
Vacation rentals tend to focus on very short-term travelers looking for an average stay of 7 days or less, access to nightly rates, and a variety of creative living spaces—from apartments and custom-built homes to treehouses or RVs for a "glamping" experience. Generally speaking, vacation rentals are for just that – a vacation.
Corporate housing, however, is geared towards people on an extended, temporary relocation. At 702 Housing, our clients have included business executives, traveling nurses, relocating families, "snowbirds" from colder climates, cast and crews of world-renowned Las Vegas shows, people in the midst of major home renovations or insurance claims, and many others during any type of transitional situation who just need a clean, quiet place to call home for a little while.
2    Corporate Housing vs Vacation Rental in Las Vegas: Service Offering
Let's face it, waking up in a hotel room with starving children and exhausted parents isn't exactly ideal. Vacation rentals booked through companies such as Airbnb provide vacationers with everything one would need to feel comfortable away from home. Beds and bathrooms come stocked and prepared with linens and towels, and the kitchens are fully stocked so families can enjoy cost-saving home-cooked meals on vacation, not to mention a little more much-needed space.
Corporate Housing 
Many people are surprised to find that corporate housing units are set up exactly like vacation rentals. There's no need to pack and haul boxes of household items for your monthly stay. 702 Housing properties in Las Vegas and Henderson come fully-stocked with all the essentials—from houseware and kitchenware to fresh towels and linens, almost anything you can think of to live in comfort is included. All of our 1 to 3-bedroom rentals have full-sized private washers and dryers, dishwashers, HDTVs, private balconies, swimming pools, jacuzzis, gyms, and a whole lot more. Monthly rates include all utilities and high-speed internet so you can move in and move on to what you're in town for. Leave the details to us and simply show up with your suitcase!
3    Flexibility
For those who tend to book or extend their stay last-minute, Airbnb may not be your best choice. Competition gets high and prices may go up depending on the season and availability of the rental (especially if it's a long week holiday or the start of summer). In addition, if your plans change and you need to extend a day or two, chances are your vacation rental will not be available due to another booking.
That's where corporate housing steps in; 702 Housing is a better choice if you are not sure exactly what your next few months will be like. Our leasing options are about as flexible as it gets. Leasing options can include any stay from one month to as long as you need, on a month-to-month basis for flexibility, or fixed-term if you are sure of your plans. The majority of our tenants stay for 1-3 months, and some have been with us for several years!
4    Availability
Vacation rental sites such as Airbnb, TripAdvisor, and HomeAway provide availability calendars with bookings that are blocked out. People looking for accommodations longer than one week run into problems finding an adequate unit that is available for the full time-period they need. We've heard many stories of business executives or whole families having to pack up and move from property to property, just to have a place for the duration of their extended stay.
Corporate housing, however, understands these scheduling conflicts and the chaos it can cause when in an unfamiliar environment away from the comforts of home. 702 Housing's unique platform makes searching for relevant properties and comparing rental rates a breeze. Rented properties are filtered out of the search and available properties are all sorted by date, making it easier for you to know which listing is available and which one is not. You don't have to scroll endless pages of listings just to book a single unit.
5    Accessibility
Travel should be as stress-free as possible (especially if you're elderly or have a disability). Vacation rental experiences may vary depending on your property or host. Some hosts may not have staged their vacation rentals in a disability-friendly manner, or may not have access to ground-floor units or elevators. Many vacation rentals in urban areas are located in large high-rises that do not offer easy self-parking. Imagine having to tip a valet each time you need to come and go, or the hassle of hauling everyday essentials like groceries through lobbies, elevators, and long hallways.
Thanks to corporate rentals, you don't have to walk far to access your front door. 702 Housing has a large inventory of properties in residential neighborhoods, both urban and suburban, and we are most often able to offer guests ground-floor units if needed. In addition, your parking space will be located near your front door instead of in a large parking garage. Whether you're looking to be close to the action of The Strip, or away from the hustle, we have something for everyone.
Whether you're a traveling professional, digital nomad, relocating to Las Vegas or Henderson, or maybe escaping those winter months, 702 Housing is your go-to pal! We've got great options for people looking to live near the Strip area or where the locals live, ideal for a month-long stay or so!