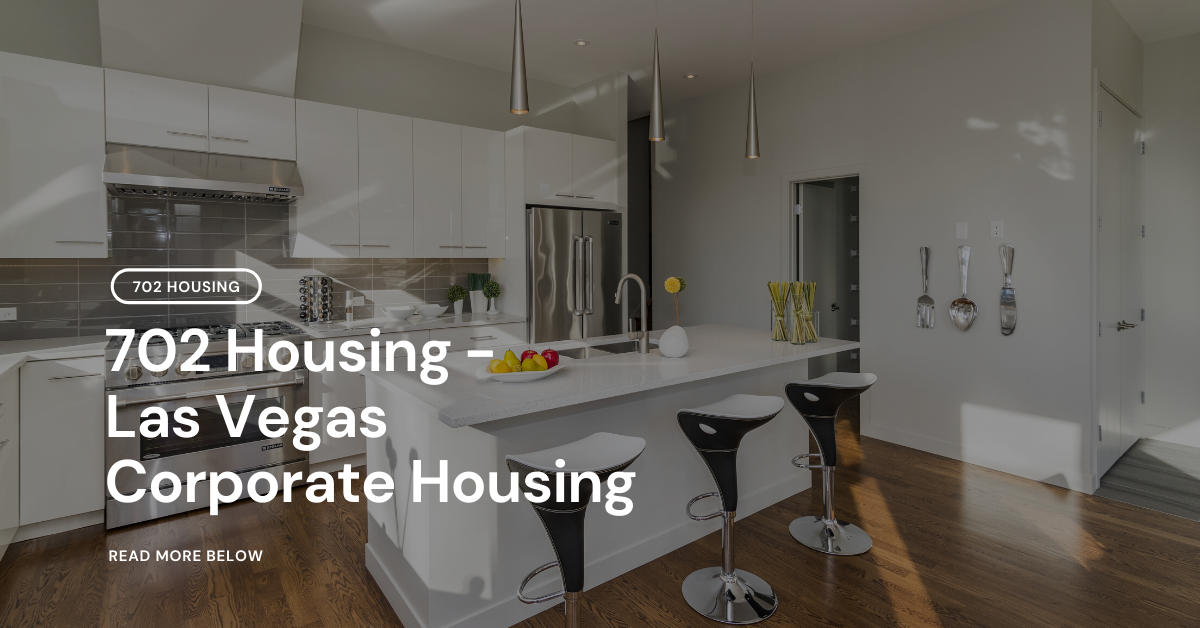 702 Housing – Corporate Housing Provider, Las Vegas
702 Housing is the fastest-growing Las Vegas corporate housing provider, offering turn-key furnished properties in both Las Vegas and Henderson. These properties are completely outfitted with all the essentials—from houseware and kitchenware to fresh towels and linens, to private full-size washers and dryers—combined with services and facilities for comfort, activity, and relaxation.
Founded by real estate investors Sam and Lisa Kayvon in 2010, 702 Housing has reinvented how corporate housing exists in the marketplace. They have demonstrated excellence and commitment to the hospitality industry and have grown steadily throughout the decade to become a leader in this field. 702 Housing currently serves hundreds of clients ranging from top corporations to small businesses and individuals.
"We started our path in corporate housing in 2007 in the city of Las Vegas, pivoting from vacation rentals into longer term leasing due to restrictive laws with short-term rentals. In 2010, we started 702 Housing, now one of the top Las Vegas corporate housing providers. In operating and growing 702 Housing into what it is today, we've learned about this industry and how to effectively bring it online through our unique booking platform." – Sam Kayvon, Founder of 702 Housing
Corporate Housing Solutions
Regardless of whether you're looking for accommodation for business or personal needs, we've got great housing solutions for a wide range of individuals. Corporate housing is a popular and convenient option for relocating professionals and temporary employment assignments, from all business industries. Business executives, traveling nurses, trade partners, and others have found 702 Housing's services an ideal fit, as well as easy and straightforward to use. We have worked with all types of businesses, from individuals to Fortune 500 companies.
Our corporate rentals are set up exactly like home—spacious and well-decorated living space, with high-speed internet, cable, and utilities included. Rather than committing to a year lease or a home purchase in a new city, you will find our leasing options to be flexible and convenient. The monthly rent includes all furniture and housewares exactly as pictured online, as well as the utilities, cable, and internet. Just bring your suitcase and leave the details to us!
Insurance and Emergency Housing
In situations where homeowners are temporarily displaced due to fire, flooding, or another disaster, our corporate housing will be an oasis for your clients while they put their lives back together. Our top-notch service includes compassionate customer service and a variety of housing to choose from. Each property is uniquely designed to accommodate your clients' needs.
Short Term Housing
702 Housing's properties are ideal for athletes and actors, stage performers and film crews from the renowned Las Vegas shows, seasonal World Series of Poker players, "snowbirds" from colder states, or anyone in between homes who needs a convenient, temporary space. A typical one-bedroom unit booked through 702 Housing includes modern amenities such as king-sized beds and flat-screen TVs. Also suitable office desk for your working needs, a kitchen that will inspire your inner Gordon Ramsay with a complete set of housewares and kitchenware. And don't forget about the full-sized, private washers and dryers in every unit! In addition, our unique platform makes it easy for everyone to make payments securely using a credit or debit card, an eCheck, or through online ACH.
To view our most current availability and competitive pricing, click here.