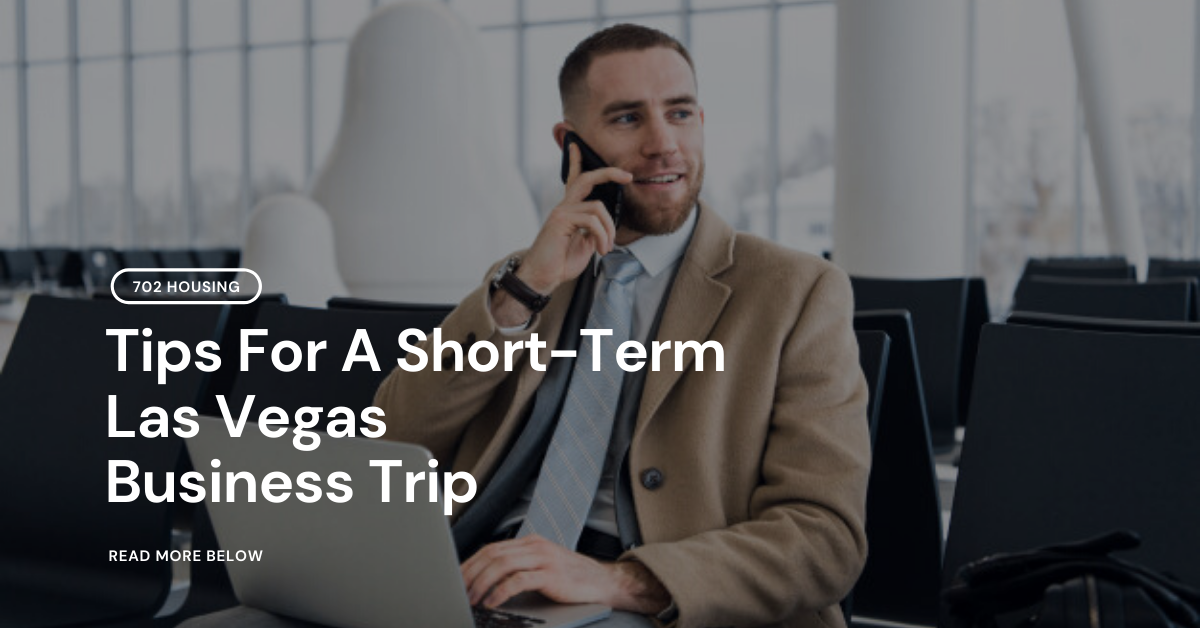 Aside from the lights and excitement of the Strip, there's always more about Las Vegas than most know about. From off-Strip happy hour after-work spots to indoor and outdoor family-friendly activities, the activities are endless. In this article, we'll give you tips to help make your Las Vegas short-term business trip a chance to explore this wonderful city.
1    Pack Smarter
Packing can be a chore for those who often travel out of town for corporate trips. Here are some packing tips for a short-term Las Vegas business trip from the pros that will help make these trips run more smoothly.
Rolling instead of folding clothes saves more space.
Putting mothballs in your carry-on eliminates odors.
Make copies of your travel documents, especially door codes for your temporary housing. Have them saved on your phone.
For valuable items like passports, IDs, and other travel documents, extra zip locks are always handy and can provide a sanitary compartment for dirty laundry.
Bring along two pairs of shoes. One comfy pair for everyday use, and another for work. Don't forget your flip-flops in this desert oasis!
Add a water bottle to carry on. Your lips and throat will dry in no time when you arrive in Las Vegas, drink as much water as possible.
2    Live Like A Local on Your Short-term Business Trip
This doesn't necessarily mean that you have to live for years in the city to experience Las Vegas like a local. There are many great neighborhoods off the Strip with such amenities that can't be found elsewhere. Henderson, for instance, is a short drive from the Las Vegas Strip and boasts fun attractions such as the Clark County Museum, Lion Habitat Ranch, valleys and trails of Lake Mead, and a petroglyph site with over 300 ancient rock art panels at Sloan Canyon National Conservation Area. Exploring the area's lesser-known attractions is a great way to get to know a new area on an extended trip.
3    Know When's the Best Time to Move to Las Vegas
When thinking about moving to Las Vegas for short-term corporate travel, the weather is a hot topic. It gets very hot during summer between June and September then calms down as winter approaches from December through March. You may experience regular temperature swings, that's why we suggest that you check the Las Vegas forecast as your trip gets closer.
Summer (June-September) in Las Vegas
Las Vegas summers are very hot and dry but can put on quite a show of downpours and thunderstorms. Locals say it's more like an oven and less like a sauna, with surprise afternoon monsoons. In addition to the umbrella or raincoat, you'll want to have on hand, air-conditioned buildings can be frigid and you'll want to be sure to carry around a light sweater. And be careful about your hot car when heading out! Metal seatbelt buckles can burn, and the steering wheel will be hot to the touch. However, there are many great waterparks and indoor activities within Las Vegas to cool you off on a hot summer day such as Wet 'n' Wild Las Vegas and Vegas Indoor Skydiving. You may want to read our article about the 5 most family-friendly activities in Las Vegas after this article.
Winter (December-March) in Las Vegas Valley
Winters, on the other hand, can get cold, particularly at night. High temperature is likely to be in the 50s or 60s but if it's very windy, it could feel colder. Nights are likely to be in the 30s, so a lightweight jacket and a beanie definitely come in. It has been known to snow in the Valley a couple of nights a year, making for quite a site on The Strip! But the majority of the winter is very mild, with lots of sunshine and absolutely gorgeous days.
Las Vegas Spring and Fall
Las Vegas weather is about as good as it gets around Spring (March through May) and Fall (September through November). These seasons are when the locals say, "We moved here for this reason!". The windows will be open, light sweaters will come out at night and the daytime sunlight will be warm and plentiful. You're going to need sunscreen but that's just because you're going to love being outside. Springtime can be breezy, so save those dresses for summer or fall!
4    Save Money on Monthly Car Rental for Your Short-term Business Trip
It can be far cheaper to rent a car monthly than ride-sharing with Uber and Lyft, booking taxis regularly or using public transport. Not only does it save you money, but it also saves you time by providing mobility. Does long-term or monthly car rental exist in Las Vegas? The answer is YES. We've put together a list of all Las Vegas car rental sites that might help you get around the city with no fuss:
5    Consider Las Vegas Corporate Housing
In terms of space, amenities, privacy, location, and cost, considering corporate housing as your home away from home is a smart move. Oftentimes, the cost of corporate housing is much lower than the daily rate of hotels ($150/night quickly adds up to $4500/month!). And finding a vacation rental that has extended availability for your stay can be next to impossible. At 702 Housing, we offer flexible leases, the convenience of one monthly payment for all of your housing expenses, and amazing customer service representatives who can help find you a home that fits your needs.